Introduction to SpinningUniverse.com
INTRODUCTION TO SPINNINGUNIVERSE.COM
By Puthalath Koroth Raghuprasad
Odessa, Texas
Contact Us or Leave Comment
The primary purpose of making this website is to explain the role spin of celestial bodies play in maintaining order in the universe. The idea that spin of the bodies is the most important fundamental property of matter and one that is essential for the proper functioning of the universe, is an original idea put forward by this author. At the heart of this idea is the notion that mutual gravitation alone cannot determine the direction of orbits of the planets and their satellites. In other words, the belief that the mutual gravitation, combined with Newton's First law of motion explains the motions of celestial bodies is erroneous. This teaching cannot account for the orbits being only in one direction, which direction is the same as the mother bodies' axial rotation or the fact that all bodies align quite neatly around the ecliptic of the mother bodies or the fact that all bodies exhibit axial rotation. Neither will Einstein's 'warping of spacetime'. Here also the problems are that, while the "warping" could be invoked to explain where the satellite bodies are situated in relation to the mother body, his theory also cannot account for any of the orderly motions in space or indeed, the axial rotation of all bodies. Both of these theories and the current cosmological teachings, including the standard model are a patchwork of ideas that have hitherto failed to explain the workings of the universe. As described later in this Introduction, since the larger a body or a congregation of bodies (such as galaxies) is, the faster they rotate on their axes and move in space, there is no need for manufacturing unprovable objects such as black holes, dark matter, dark energy, negative energy and dark haloes, to explain the way the stars and galaxies move in space. Thus, we offer this hypothesis as a replacement of the standard model, as it will go a long way to solve many of the mysteries.
Before I move on to my explanations, I wish to take the reader to some background information. My intuitions came decades before the facts were unearthed by my search for answers. And, almost everything that I discovered by my search only supported my ideas, and often offered even more material to build a coherent hypothesis. Central to my hypothesis was that all celestial body motion mechanics ultimately stem from the interactions between two fundamental attributes of matter; these are spin and mutual gravitation (and aided by the centrifugal force that result from them). They both initiate the motions, and make them perpetual. Here below I present the nuggets that I unearthed from scouring the astronomical literature and NASA's website, and my own observations and conclusions. The numbered items mentioned below and the figures and tables that follow will clearly show that mother bodies' gravitational pull on their satellites, combined with their axial rotations both initiate the orbital motion/direction and speed of the satellites and make such motions perpetual. Since both mutual gravitation and the axial rotation are inherent and fundamental properties of congregations of matter, and the observations of increasing speed of axial rotation the larger the bodies are, quite akin to the increased gravitation of larger bodies, and almost all bodies both rotate on their axes and orbit in the counterclockwise direction, support my contention that celestial body motion mechanics are not random occurrences or the result of a remnant of a past event or events, as suggested by the "conservation of the angular momentum" teaching in astronomy. Now, the Nuggets:
Matter at all levels, from the tiniest elementary particles to the mightiest galaxies, spin on their axes.
The larger the body, the faster it rotates on its axis. (see figure)
All bodies rotate on their axes in the counterclockwise direction.
All satellites orbit mother bodies in this same counterclockwise direction; i.e: follow the mother's axial rotation.
The satellites that are closest to the gas and ice giants of the solar system rotate "synchronously"; the satellites that are farther out exhibit non-synchronous or normal rotation, and the farthest tiny satellites, all of which are excessively tilted on their axes, rotate negatively. (see table)
The closest satellites that are rotating synchronously, rotate on their axes faster, the closer they are to the mother bodies. This is in addition to the faster orbits with proximity to mother bodies.(see figures and table).
The satellites' orbital speeds and their axial rotational speeds are influenced positively by the size of the mother bodies, again in the gas and ice giants' closest large moons (see figures and tables of (6) above. Thus, the larger the mother body, the faster it rotates on its axis and this effect is then imparted to the satellite bodies! This finding alone will argue against the well-established notion of "conservation of the angular momentum", as such an effect should be equal in all bodies.
All stars also rotate on their axes in the same counterclockwise direction; they also rotate faster, the larger the star is. (see table IV)
All stars move within the galaxy, also in the counterclockwise direction, and the larger the star, the faster it moves. (see table IV)
All galaxies rotate on their axes in the counterclockwise direction, and they rotate really, really fast! Also, the larger the galaxy, the faster it rotates. (see table V and figure 5)
(Here I speculate, with some evidence at hand): The galaxies also move in space in the counterclockwise direction and the larger the galaxy, the faster it moves.
The exquisite properties of the neutron stars, the odd behaviors of Venus, Mercury, Uranus, Triton(a large moon of Neptune) and others all offer useful information to bolster my ideas about the cosmos.
Here are some interesting observations that should drive home the idea of the effect mass of bodies have on how fast they rotate on their axes: The satellites of the major planets of the solar system rotate on their axes at meager 9.33 to 269 km/hour, while their respective mother planets rotate between 867 and 45,255 km/hour. The stars on the other hand, rotate at astonishing speeds between 0.1 and 610 km/second and the galaxies rotate on their axes at even higher rates between 210 and 23,368 km/second ! Again, the larger the body, the faster the rotation. All readers will agree with me that this is counter-intuitive but, if the mass of a body gives it the ability to rotate on its axis as well as exhibit gravitational pull, it is not surprising that larger mass will gift it with both larger pull of gravity as well as increased speed of axial rotation.
The figures and tables presented below are from my recently published article entitled, " Pivotal Role of Spin in Celestial Body Motion Mechanics: Prelude to a Spinning Universe". This and other articles are posted in this website; please click on the links in the left margin of this page to open them.
Figure 1 below clearly shows that the speed of axial rotation of the regularly rotating planets in our solar system is directly and positively related to the sizes of the bodies. The clear inference is that such motions are inherent, and an autonomous property of matter and not due to any "conservation of angular momentum" as taught by current cosmology. Otherwise, the larger bodies should rotate slower and the smaller bodies rotate faster, or at least all of them rotate at the same speed!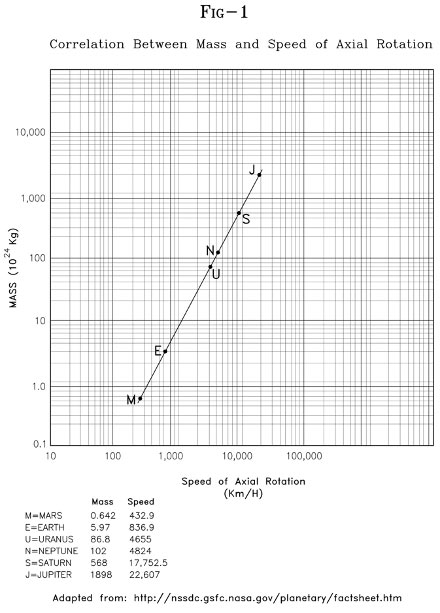 TABLE IIa
PLANETARY AXIAL ROTATION RATES vs. SATELLITES' ORBITAL SPEEDS
(Synchronously Rotating Satellites)

PLANETS

SATELLITES

MASS
(1024 Kg)

AXIAL ROT. SPEED
(Km/hr)

DIST. FROM MOTHER
(103km)

MASS*

ORBITAL SPEED (Km/hr)

1) Mars

0.642

867

Phobos
Deimos

9.38
23.46

10.6
2.4

7,695
4,868

2) Earth

5.97

1677

Moon

384.4

0.073

3,679

3) Uranus

86.8

9,310

Miranda
Ariel
Umbriel
Titania
Oberon

129.9
190.9
557
436
584

0.66
13.5
11.7
35.2
30.1

23,923
19,844
16,821
13,110
11,320

4) Neptune

102

10,231

Naiad
Thalassa
Despina
Galatea
Larissa

23.2
25.2
27.7
37.2
48.8

0.002
0.004
0.02
0.04
0.05

43,350
42,129
41,045
37,836
35,238

5) Saturn

568

17,775

Mimas
Enceladus
Tethys
Dione
Rhea

185.5
238
294.7
377.4
527

0.379
1.08
6.18
11.0
23.1

51,684
45,471
40,879
36,036
30,531

6) Jupiter

1899

45,255

Io
Europa
Ganymede
Calisto

421.6
670.9
1070
1883

893.2
480
1481.9
1075.9

62,382
49,613
39,103
29,531
The orbital speeds of satellites having a positive relationship with both the size of the mother bodies, and the distance from the mother, implies that the gravitational pull (which is result of the mass of the body), as well as the "rotational" influence from mother to satellite(s) are operative. Again, this argues against residual rotational/orbital influences from the time of the formation of the solar system, as implied in the notion of "conservation of the angular momentum", in the conventional teaching in cosmology.
Data presented in this table were adapted from http://nssdc.gsfc.nasa.gov/planetary/factsheet and related pages. Only for the moon was actual value derived from the NASA's website; all other values were calculated from the values for the orbital parameters posted at the website. For calculating the orbits of the small satellites, where only semi-major axes were provided, they were used; since all satellites' values were thus affected, we accepted that limitation.
*The masses for all of the planets and earth's moon were x10 24 kg and for the satellites of Mars were x 1015 kg; for Jupiter's moons were x 1021 kg; for Saturn's, Uranus' and Neptune's were x 1020 kg
TABLE II b
PLANETARY AXIAL ROTATION vs. SATELLITES' AXIAL ROTATION SPEED
(Synchronously Rotating Satellites)

PLANETS

SATELLITES

MASS
(1024kg)

AXIAL ROT.
SPEED
(km/h)

MASS*

DIST. FROM
MOTHER
(103km)

AXIAL. ROT.
SPEED
(km/h)

MARS

0.642

867

PHOBOS
DEIMOS

10.6
2.4

9.38
23.46

9.33
1.25

EARTH

5.97

1,677

MOON

0.073

384.4

16.7

URANUS

86.8

9,130

MIRANDA
ARIEL
UMBRIEL
TITANIA
OBERON

0.66
13.5
11.7
35.2
30.1

129.9
190.9
557
436
584

44
60.7
38
23.7
14.8

NEPTUNE

102

10,231

NAIAD
THALASSIA
DESPINA
GALATIA
LARISSA

0.002
0.004
0.02
0.04
0.05

23.2
25.2
27.7
37.2
48.8

31.5
36.9
60.5
54.3
47

SATURN

568

17,775

MIMAS
ENCELADUS
TETHYS
DIONE
RHEA

0.379
1.08
6.18
11.0
23.1

185.5
238
294.7
377.4
527

51.6
44.5
40.8
36
30.7

JUPITER

1899

42,255

IO
EUROPA
GANYMEDE
CALLISTO

893.2
480
1481.9
1075.9

421.6
670.9
1070
1883

269.6
115.2
95.7
37.8
The findings presented in this table further support our argument that local gravitational and rotational influences (i.e. from the mother bodies) determine all motions of satellite bodies. Further, the augmentation of the axial rotation speeds directly by both the sizes and closeness to mother bodies, as shown in this table, elegantly supports our contention that such motions are all the results of local events and not predetermined by any "conservation of the angular momentum", as the current teaching is.
Data in this table were adapted from http://nssdc.gsfc.nasa.gov/planetary/factsheet and related pages. Only for the moon was actual values derived from NASA's website; all other values were calculated from the values for the orbital parameters posted on that site. For calculating the axial rotation speeds, either using the 'median axis radius' given by NASA, or by calculating it from the data provided (for the small satellites, where their shapes are not spherical) were used to determine the circumference. Since the satellites were synchronously rotating, for axial rotation period, the orbital period was used. Then, the satellites' orbital rotation was calculated from the two values. * The masses for satellites of Mars were x1015 kg; for moon it was x1024 kg, for Uranus', Neptune's and Saturn's were x1020 kg; for Jupiter's they were 1021 kg.
TABLE III
ORBITAL PARAMETERS OF SATELLITES OF JUPITER*
Satellites:

Radius
(Km)

Distance from Jupiter Δ
(103Km)

Orbital Period
(Days)

Rotation Period
(Days)

Inclination
(Degrees)

A) Galilean:

Io

1,821.6

421.8

1.769138

S

0.04

Europa

1,560.8

671.1

3.551181

S

0.47

Ganymede

2,631.2

1,070.4

7.154553

S

0.18

Callisto

2,410.3

1,882.7

16.689017

S

0.19

B) 'Lesser'

Metis

30x20x17

128

0.294779

S

0.06

Adrastea

10x8x7

129

0.298260

S

0.03

Amalthea

125x73x64

181.4

0.498179

S

0.40

Thebe

58x49x42

221.9

0.6745

S

0.8

Themisto

4

7,507

132.02

ND

45.67

Leda

5

11,170

240.92

ND

27.47

Himalia

85

11,460

0.4

27.63

Lysithea

12

11,720

259.22

ND

27.35

Elara
S/2000 J11
Carpo (S/2003 J20)

40
2.0
3.0

11,740
12,560
16,990

259.6528
287.0
456.1

0.5
ND
ND

24.77
28.2
51.4

Euporie
Orthosie
Euanthe
Thyone
Mneme

1
1
1.5
2
2

19,390
20,720
20,800
20,940
21,070

553.1 R
622.6 R
620.6 R
627.3 R
620.0 R

ND
ND
ND
ND
ND

147
145.9
148.9
148.5
148.6

Harpalyke
Hermippe

2.2
2

21,110
21,130

623.3 R
633.9 R

ND
ND

148.7
150.7

Praxidike
Thelxinoe
Helike

3.4
2.0
4.0

21,150
21,160
21,260

625.3 R
628.1 R
634.8 R

ND
ND
ND

148.7
151.4
154.8

Iocaste

2.6

21,270

631.5 R

ND

159.7

Ananke
Eurydome

10
1.5

21,280
22,870

629.8 R
717.3 R

ND
ND

148.9
150.3

Arche
Autonoe
Herse

1.5
2
2

22,930
23,040
23,097

723.9 R
762.7 R
715.4 R

ND
ND
ND

165
152.9
164.2

Pasithee
Chaldene

1
1.9

23,100
23,180

716.3 R
723.8 R

ND
ND

165.4
165.4

Kale

1

23,220

729.5 R

ND

165

Isonoe
Aitne

1.9
1.5

23,220
23,230

725.5 R
730.2 R

ND
ND

165
165.1

Erinome

1.6

23,280

728.3 R

ND

164.9

Taygete

2.5

23,360

732.2 R

ND

165.2

Carme
Sponde

15
1

23,400
23,490

734.2 R
748.3 R

ND
ND

164.9
151

Kalyke

2.6

23,580

743 R

ND

165.2

Pasiphae
Eukelade

18
4

23,620
23,660

743.6 R
746.4 R

ND
ND

151.4
165.5

Megaclite
Sinope
Hegemono
Aoede
Kallichore

2.7
14
3
4
2

23,810
23,940
23,950
23,980
24,040

752.8 R
758.9 R
739.6 R
761.5 R
764.7 R

ND
ND
ND
ND
ND

152.8
158.1
155.2
158.3
165.5

Callirrhoe

4

24,100

758.8 R

ND

147.1

Cyllene
Kore

2
2

24,350
24,540

737.8 R
779.2 R

ND
ND

149.3
152.4
This table is representative of all the ice and gas giants in our solar system, as far as how the satellite bodies' distances from the mother bodies determine both the axial tilts and the axial rotational speeds, as well as their orbital speeds. Note how the close-in "Galilean" satellites (Io, Europa, Ganymede and Calisto) display minimal axial tilts and "synchronous rotation", whereas, the "lesser" satellites that are intermediate in distances from the mother (Metis to Carpo) display axial tilts intermediate (24.77 to 45.67 degrees) between the synchronously rotating satellites and the peripheral, "negatively" rotating satellites, (Euporie to Kore); all of the latter have higher axial tilts, between 147 and 165.5 degrees. We infer from these findings that again, local gravitational/rotational influences are responsible for all the motion mechanics of celestial bodies.
C = Newly discovered satellites S/2000 J2 to S/2011 J2 have orbital periods from 504 to 982.5; all exhibit reverse 'motion' and orbital inclination from 140.8 to 165. Numerous peripheral newly discovered unnamed satellite are not included in this Table. Most of them rotate negatively.
S=Synchronous rotation (rotation period is the same as orbital period) R=Retrograde rotation ND= No data available Δ Distance from Jupiter (103km) = Semi-major Axis*Adapted from:http://nssdc.gsfc.nasa.gov/planetary/factsheet/joviansatfact.html 16 July 201 Reproduced with kind permission of Physics Essays Publication, http://physicsessays.org/ with modifications.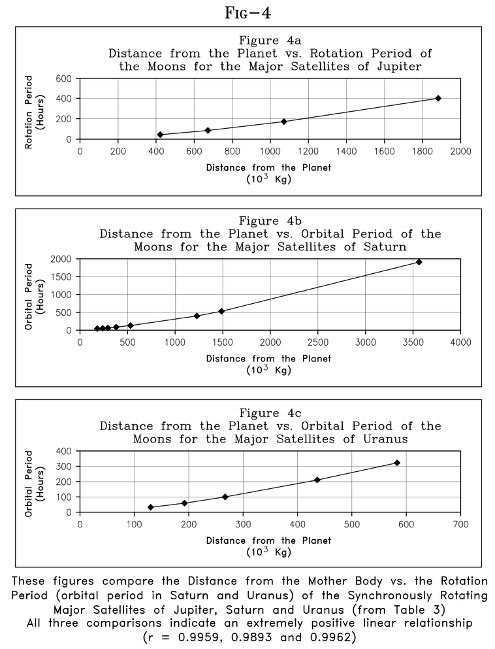 Reproduced from Applied Phys. Res. Vol 12, No 2, 2020
http://dx.dol.org/10.5539/apr.c12n2p
SELECTED PARAMETERS OF STARS IN SUN'S NEIGHBORHOOD

STAR

DISTANCE
(Light Years)

RADIUS*

MASS*

RAD.VEL
Km/sec

ROT. VEL
Km/sec

1) Proxima Centauri

4.24

0.154

0.122

-22.20

<0.1

2) Alpha Centauri A

4.37

1.22

1.1

-21.4

2.7+-0.7

3) Alpha Centauri B

4.37

0.86

0.907

-18.6

1.1+-0,8

4) Barnaard's star

5.96

0.196

0.144

-110.6

<2.5

5) Wolf 359

7.86

0.16

0.09

+19

<3.0

6) Sirius A

8.6

1.71

2.063

-5.5

16

7) Luyten 726-8

8.73

0.14

0.102

+29

28.2

8) Ross 154

9.6

0.24

0.17

-10.7

3.5

9) Ross 248

10.29

0.16

0.136

-75.2

1.2

10) Ross 128

11

0.197

0.168

-31

N/A

11) 61 Cygni A

11.4

0.665

0.7

-65.9

N/A

12) 61 Cygni B

11.4

0.595

0.63

-64.4

N/A

13) Procyon A

11.46

2.05

1.50

-3.2

3.16

14) Epsilon Indi

11.87

0.732

0.754

-40.4

1.46

15) Vega

25

2.36 x 2.82

2.1

-13.9

20.48

16) Arcturus

36.7

25.4

1.08

-5.19

2.4

17) Aldebaran

65.3

44.13

1.16

54.26

3.5+-1.5

18) Beta Carinae

113.2

6.8

3.5

-5.2

145.7

19) Achernar

139

7.3 x 11.4

6.7

+16

250

20) Alha Arae

270+-20

4.5

9.6

0

375

21) Canopus

310

71

8

+20.3

9

22) Polaris

323-433

37.5

5.4

-17

14

23) Pleione

392

3.2

3.4

+4.4

329

24) Epsilon Aurigae

653-1,500

143-358

2.2-15

10.4

54

25) PZ Cassiopeiae

2810

1062

N/A

-45.68

45

26) Rho Cassiopeiae

~3,400

636-981

40

-47

25

27) VY Canis Majoris

~3,820

1420

17

41

300

28) KY Cygni

~3,600

672

25

N/A

N/A

29) UY Scuti

~5,100

755

7-10

+18.33

18

30) V382 Carinae

5,930

485

20

+6

57+-15 (?)

31) V915 Scorpii

5436

760

N/A

+46

N/A

32) Eta Carinae

7,500

~240

120-200

-25

N/A

33) VFTS 102

164,000

N/A

~25

+228

610+-30
The data for this table were derived from published material online, mainly from Wikipedia.org but, some were confirmed or corrected by values posted in other sites, as well as from nasa.gov website
= Radius and mass are expressed as multiples of solar radius or solar mass
N/A= Data not available
The finding reported in this table that the sizes of the stars (if the radius and mass of the stars as reported by the observers) conform, also have a positive relationship with the axial rotation speeds as well as their lateral motion in their mother galaxies, also support our notion that intrinsic, autonomous property of matter is what determines the motions of bodies in the universe.
SELECTED PARAMETERS OF LARGE GALAXIES

Name

Distance
(LY)

Mass*

Size
(Diam.)
(LY)

No. of Stars

Helio-Radial
Vel (Km/s)

Galacto- Centric
Vel (Km/s)

1) 1C 1101

1.045 ±
0.073 B

N/A

4M

100 T (1014 )

23,368 ± 26

23,395 ± 26

2) 3C 348 (Hercules A)

2.1 B

1,000 *

1.5M

N/A

N/A

N/A

3) A2261 – BCG

3 B

10 *

1M

10 T (1013)

N/A

N/A

4) ESO 306 – 17

493 M

2.5 arc. Sec

1M

N/A

N/A

N/A

5) UGC 2885

232 M

463 K ly

800

1T

N/A

N/A

6) Comet

3.2 B

3.8 x 108 M⊙

600K

N/A

3.4M

N/A

7) NGC 6872 (Condor Gal)

212 M

>1011 M⊙

522K

N/A

4,555

4,443

8) ESO 444 – 46

640 M

10,000 *

402K

N/A

14,061

N/A

9) Tadpole

420 M

N/A

280K

N/A

N/A

N/A

10)Andromeda

2.54 M

1.76 *

~220K

1T

-301

- 120

11) Milky Way

_______

1x1012 M⊙

105.2

250-500

210

N/A
LY= Light years K= x1000 M= Million B= Billion T= Trillion
N/A = Data not available
⋆ = x Mass of Milky Way Galaxy
M⊙= x Mass of Sun
The data for this table were derived from our review of astronomy/astrophysical journals and various online sites, including nasa.gov, Wikipedia.org and others. There is great paucity of data for the parameters we were particularly interested in (axial rotation speeds and radial velocity, vs mass/size of the galaxies). We tried to select large galaxies and compare them with medium-sized ones such as our Milky Way Galaxy. Apparently, the largest of the galaxies are also the farthest and clearly the availability of data is severely hampered by that fact alone. Thus, on this table we are left with comparison of only a few galaxies (Nos.1,6,7,8 vs 10 & 11).
Even with this sparse data, there is a good hint that the galacto-radial and helio-radial velocities are higher, the larger the galaxy is. Taken together with the recent observation (5) of the "Super Spirals" rotating even faster, we can safely predict that future availability of accurate information will confirm our belief.
With this background information, now let us get back to our theme:

To explain all the features discussed earlier, my idea of combining the forces of gravity and spin, counter-balanced by the centrifugal force, as elaborated in the articles in this website, is, uniquely adequate. The scientific articles entitled "Planetary Spin-Orbit Attributes in the Planets and their wider implications" and "Synchronous, Non-synchronous and negative rotations: How Spin and Gravity Orchestrate Planetary Motions" were written by me and have already been published in peer-reviewed science journals. The next in the series, called, "Spin: Ubiquitous, Fundamental, Purposeful: Its Complementary Interactions with Gravity" and the final article in this series has also been published now and is called " Pivotal Role of Spin in the Motion Mechanics of Celestial Bodies: Prelude to a Spinning Universe". "My Astronomy Musings " was written by me as a primer for the readers. The data presented in the paper entitled "Synchronous, Non-Synchronous and Negative Rotations: How Spin and Gravity Orchestrate Planetary Motions" clearly show the intimate relationship between the mother bodies' speed of axial rotation and the distance to the satellite in determining the rotational/orbital behavior of these satellites. Thus, the closest large moons of the gas giants display negligible or no axial tilt and they rotate on their axes and orbit the mother in the same time period ("synchronous rotation"). The crucial finding in this interaction is the increase in the speed of axial rotation of these satellites directly proportionate to the distance from the mother bodies. Those satellites that are situated farther and farther away from the mother, display proportionally increased axial tilts, and they do not display synchronicity. The most peripheral bodies, with axial tilts over ~120 degrees, display negative rotations and also considerable delay in their rotation period. This applies to all peripheral small satellites of the gas/ice giants. Among the planets, Venus (axis -174) and Pluto (axis -152) are the two planets that also show negative rotation.
---
The notion of 'spinning universe' is just an extension of the observed axial rotation of the elementary particles, on through the motions of planets, their satellites, the stars and even the galaxies, and extending it to the larger universe. The only concept to understand is that the universe, which is made up of the galaxies with the seen and the unseen (the rest of the matter in the universe, which remains invisible), move tangentially, giving the illusion of the universe spinning. It should be understood that it is the matter in the universe and not the void of space that spins. To me, it makes no sense to accept the notion of rotating motions (the axial rotation and the orbits) of the infinitely small, all the way up to the galaxies, but beyond the domain of the galaxies, it is a radial motion outward.
Yet, this is what has been proposed by the incredibly naive notion of a "Big Bang" followed by an ever-expanding universe, where even the space and all the objects are being made nearly at the speed of light for billions of years! The only 'evidences' put forward to support this notion are the red shift of light from the far away galaxies and the so-called "Cosmic Microwave Background Radiation" (CMBR) which is supposed to represent the remnants of the radiation left after the "Big Bang". I question the use of red shift to prove that the bodies are travelling in a radial direction. When dealing with objects at such unimaginable distances, the red shift might fail. Movement of the galaxies in a circumferential direction may instead, actually produce the increase in red shifts. The notion that the radiation measured around the vicinity of the earth and use of that data to support what is happening all over the infinitely vast universe, is unbelievably naive. Earth is just a tiny planet orbiting a mediocre star, which is but one of hundreds of billions of stars orbiting a rather ordinary spiral galaxy, which is one of billions of galaxies in the vastness of the visible universe. How can the measurement taken around this tiny earth represent what is going on in the rest of the galaxy, let alone the whole universe?! The truth is, as dictated by the fundamental forces of nature, the components of the universe had always been spinning. Just take a look at the formation of a solar system from the congregation of ordinary dust; the pull of gravity condenses the matter into the central mass which lights up as the star and a rotating disc forms (again, as a result of the collaboration of gravity and spin) in the equatorial region of the star, and this disk is destined to form the rest of the solar system bodies. This pattern repeats in all stellar systems and galaxies. This understanding should at once dispel the common belief that all orbital/rotational motions originate in the stellar (solar, in our case) nebulae and the proto-planetary disk by a "conservation of the angular momentum" deal, is erroneous as well. It will be impossible to accept that notion and then discover that the galaxies are also doing the same rotational motions. How can a property that originated in a star's formation then go on to power the motions of the whole galaxy?!
One may be excused if one questions how very large bodies are influenced by mother bodies from great distances, since gravitational attraction diminishes rapidly with distance. A good example of this is the orderly orbits of the gas giants in our solar system, especially Jupiter. Obviously, this sort of relationship is probably repeated in all star systems. In order to understand this, one has to free oneself from our earthbound biases. All our understandings are influenced by what we see around us and these are dictated by earth's gravity, our atmosphere and the other factors. However, all bodies, the smallest meteorites and satellites, to the largest planets, and even the stars are situated in their own nooks in the void of space, which space sports some unique features. First, all bodies are essentially weightless, since they are too far away from other bodies. This is so even though they still retain their respective masses and their own attendant gravity; thus the larger bodies will still influence the smaller ones in their neighborhood, as expected. Secondly, they find themselves in an almost perfect vacuum and this makes their transit entirely frictionless. Thirdly, the space around the bodies is intensely cold, almost near absolute zero; what effect this extreme cold has in the motions of bodies is not known. These three special circumstances allow the bodies (the conglomeration of fundamental elements of matter) to display their natural attributes; hence the incessant axial rotation and the orbital motions around the nearest large body, all continue in perpetuity.

While the major thrust of this website is to promote the idea of spin as having a central role in the functioning of the universe, other topics of interest will also be entertained in this website. I have already posted all my published articles dealing with Spin on this website. Also posted is an article on why the sky is blue. Please find the links to all of them at left margin of this page.

We invite all readers to write their responses for consideration for posting on this website.